Alpen's Way For
Wall Signs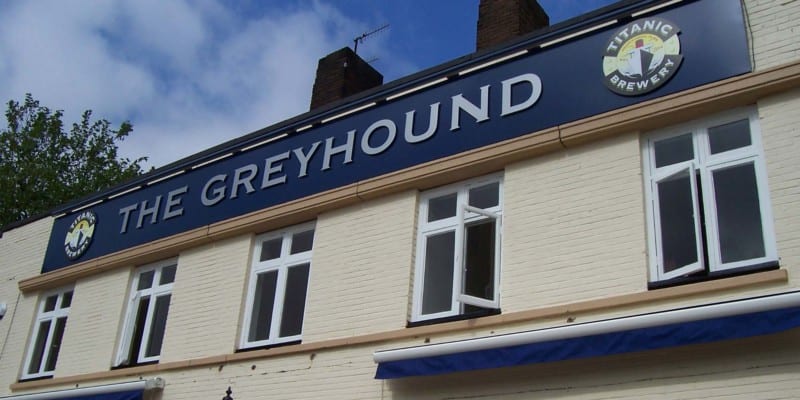 Alpen Signs –
Wall Sign Solutions
Sign wall mounts are a good way of advertising your business as the full frontal fascia of a building isn't always completely in view. Having a projecting sign that is mounted out from the building allows people to see where you are situated from different angles. The use of metal wall signs are a great addition to the signage world. As innovations develop and businesses embark on a more contemporary look; metal wall signs go hand-in-hand with this style perfectly.
As signage design processes have developed, the likes of neon wall signs, led wall signs and wall light signs have come on dramatically. These newer design features have been revolutionary within the sign sector as they mean that when it's dark, companies are still visible to the world. So, whether your design incorporates illuminated or non-illuminated detail – Alpen are able to accommodate both.
Good old-fashioned flex face signs or fascia signs have been used for decades; these are the large signs you will typically find above a business establishment. At Alpen we can cater to any design scope required, nothing is too big or small.
Wall Signs

– Our Approach
When it comes to the design process for wall signs and fascia – Alpen has developed a process that will include getting to know you and your design needs. At Alpen we get to know our customers and to understand the brief, ensuring that we gather every detail, so we are able to achieve your vision. Once we have discussed in detail what it is our clients want, we start the design process. Whether it is a detailed specification or whether you are just looking to be inspired, we have the knowhow and the ability to assist you and accommodate your requirements.
We like to oversee everything in-house at Alpen so nothing is left 'out-of-control'. This way we can guarantee that our clients are getting top-quality results at tight production schedules. This way we can ensure that your fascia signs and wall signs are manufactured to the highest finish. Whatever your sign installation needs, our in-house team of engineers are fully qualified to handle every eventuality, to ensure your signage installation needs are met.
Once installed it's just a case of maintaining that high-quality look, don't worry we have you covered there as well. An integral part of the Alpen Signs package is our complete sign maintenance service.
Need Further Support or Advice?
If you've still got questions that have not been answered here, or you would like additional advice, support or assistance then please give one of our friendly signage experts a call and we'll be happy to help.
Just give us a call on 0116 263 0550.